woke up a little bit before 0600. farted around on my phone in bed for a while and finally got up around 0645.
morning schedule got totally thrown off the rails when a grocery delivery scheduled for noon showed up around 0830. we handled it (mainly thanks to Ms13) but the ripple effects lasted into the afternoon, and i had that persistent "how is it already so late?!" feeling most of the day.
lot of project managering today. ticket wrangling, adjusting some crap in jira, that sorta thing. mainly there was so much of it because i should have done a bunch of it yesterday and it just totally escaped my attention.
quiet evening, mostly trying to plan out the next couple days, and finishing up stuff delayed from earlier in the day.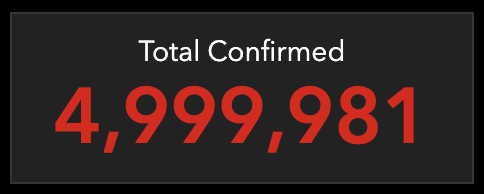 in the wider world: pretty sure we broke 5 million confirmed cases today. last time i posted a counter, it was back on 21 apr and the count was just about half this. so in the last month, of mostly unprecedented lockdowns and restrictions, we've still seen a doubling of cases. in related news, the salem area is starting to re-open, starting this friday. i'm trying to remain optimistic — but if anything, our family will be locking down harder for the next few weeks, until we see how this shakes out.
lunch: sandwich
dinner: leftover carnitas tacos